HARAS DE CROISSART

About us - Stallions - Mares - Offspring - Remember - For Sale - Activity - News - Contacts - Blog

I started riding a long time ago and like most people, I began with a poney, and after that with a saddle horse in a riding school.

Later I naturally turned to what I knew : I bought a Belgian half blood mare and to keep her company, a little Welsh/Arabian poney. This fabulous little (only 1m23) poney, Isha la Belle, had a capacity for sport well above the usual standards but most of all a personaliy which impressed all those who worked with her. For more than 25 years now she enjoys a very special place in my heart.

         Joëlle & Nuts                                                                                                                                 Marie & Ischa

After meeting Isha, I never choose a horse for his results anymore. I let myself be guided by a « coup de foudre » for a personality, a « personnage ». And I adapt the type of sport I practice according to the the horse's capacities : « attelage » with Isha, jumping with my sBs mare, dressage with my « jument trotteuse »  and now my PSA compete in « concours complet » (cross/military).

In doing so,  we are simply carrying on a long tradition : in addition to their beauty, Arabian horses have always been famous for their speed, agility , nimbleness and stamina.

It is purely by chance that one day I met a horsebreeder who made me discover the Pure Bred Arabians. I was lucky to be able to buy a young stallion, Solar Eclipse, nicknamed Nuts, whose strong personality completely subjugated me. During all his life he impressed all those who met him. Him alone found favour in my husband'eye, who at that time had no special interest in horses. What a horse it  was ! I took a lot of pleasure taking care of him and I did not see the years passing by.

But when Nuts died, the sky went black. At this time we realized all what he meant to us.

The « lord » of the place was gone and without him the « court » had no reason to be any more. For several weeks I could not take care of the other horses and it took months for me to recover.

Such a personality could not be replaced easily. But after a few months, my husband and I decided to look for another stallion. And while going from one stud to the other a kind of declic happened.

What we had appreciated so much in Nuts, this strong personality, this sensitiveness, this intelligence, we found them again in other PSA, in stallions but also in mares. They are really the horses we love.

It took us quite a time to find a stallion, Paladin, who met our expectations and in another stud, we came across an exceptional mare, Galifa, which we also bought. That gave us the idea to start our own stud. Today both are gone but they left us some wonderful souvenirs and also a superb offspring, notably Al Moubarak, the last foal of Galifa, whose birth was a kind of miracle, since his mother had to undergo surgery twice  during her pregnancy.

Today, we have 6 mares, 4 stallions, several colts, and everyday when we look at their so expressive eyes we are filled with wonder at the richness of their personality. Their intelligence, their reactivity, their wish to please us make them unforgettable companions.

Thanks to Isha we had discovered the importance of the relational and in the PSA we found the ideal horses with whom we can develop the greatest complicity.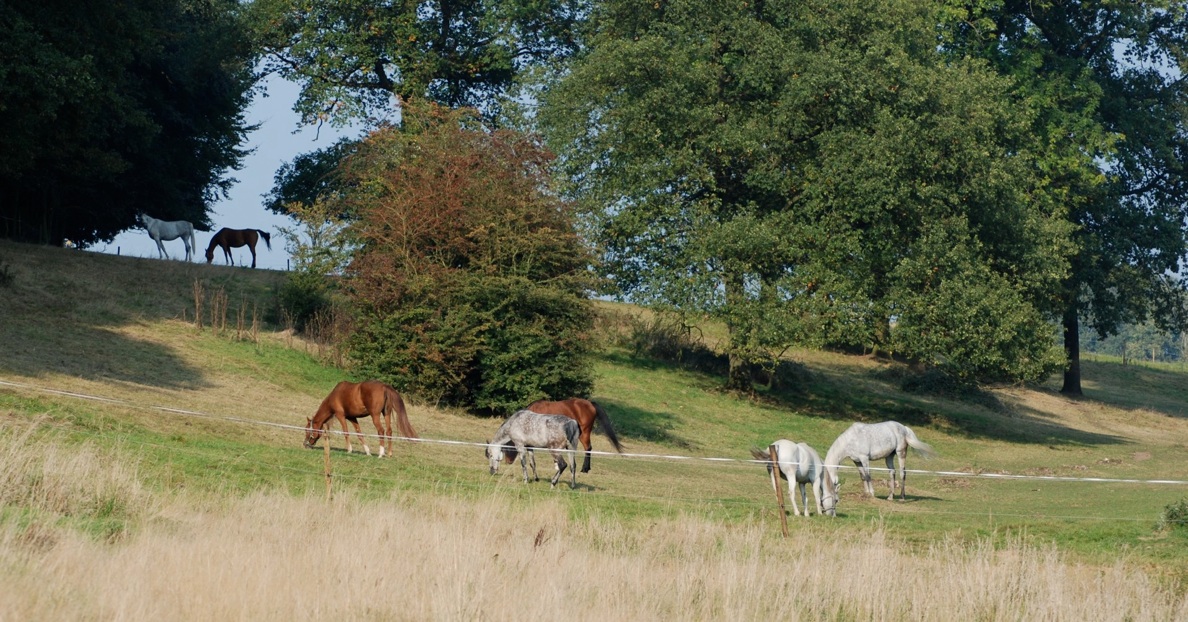 16 Vallée à la Dame - B1380 Lasne - Belgique - mail
Joelle Dumont +32.486.80.94.64 - Georges Focke +32.495.14.34.28